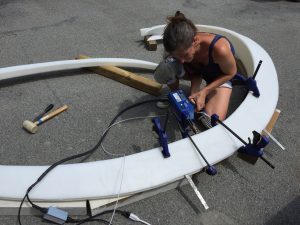 Aurora Robson is an artist-activist working in wide-ranging media, though she is best known for her work intercepting the waste steam. Robson demonstrates the power of transformation in her work, repurposing plastic debris to create aesthetically powerful sculptures that draw attention to the issue of plastic pollution. Born in Toronto, Robson moved to Maui, HI, where she spent her childhood. She lived in New York City for over twenty years, where she earned a B.A. from Columbia University with a double major in visual arts and art history. She now resides in Hudson Valley, NY with her husband Marshall Coles and their two daughters
Robson's work and ideas have been featured in Sculpture Magazine, WIRED, Art in America, Art & Antiques, on the cover of Green Building + Design, BBC News the Forum, and the Houston Chronicle, among others. She founded Project Vortex, a collective of international artists, architects, and designers working with plastic debris. She has also designed a college course titled, "Sculpture + Intercepting the Waste Stream," which fosters interdisciplinary learning in both science and art, and encourages students to see how artmaking, environmental activism, and community outreach connect and work together, a course described in Robson's TedxPeachtree talk, Trash + Love.
Aurora Robson's awards include a New York Foundation for the Arts Fellowship in Sculpture, a Pollock Krasner Grant, a National Endowment for the Arts Art Work Grant, and a Ted/Lincoln Re-Imagine Prize. She has had solo exhibitions at New Gallery of Modern Art, Project 4 Gallery, Salve Regina University Art Gallery, Penn State Arboretum, Figge Museum, Franklin Park Conservatory & Botanical Gardens, Rice Gallery, and many others. Her sculptures and installations have been included in group exhibitions at Lumenhouse, The Ernest Rubenstein Gallery, Barone & Odom Gallery, Satori Gallery, Architecture and Design Museum, PPOW Gallery, and many other venues.