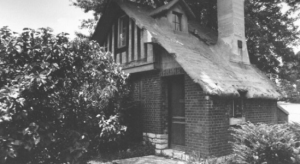 We embrace the moments when creative accidents meet hard work and provide a necessary excuse for rejuvenation. Best enjoyed in the house, with your feet up.
Recalling Kurt Vonnegut's concept of the short story as a "Buddhist catnap," Mistake House is committed to creative and intellectual refreshment in the form of poetry, fiction, and visual art.
In the introduction to his short story collection Bagombo Snuff Box, Vonnegut describes how short fiction in magazines like The Saturday Evening Post rejuvenated him and his parents within the strains and pressures of daily life during the Great Depression. Similarly, here at Mistake House, we aim to give readers a chance to escape everyday pressures in a way that both invigorates and provides intellectual stimulation.
An annual online literary journal designed and edited by undergraduate students at Principia College, Mistake House juxtaposes work by both student and professional writers and artists. We cherish dedicated play and the journey that writers and artists openly engage in, and sometimes struggle with, in an effort to produce honest, thoughtful, and inventive work. Thus we envision Mistake House as a space to celebrate conceptually elevated work and to explore diverse voices in every stage of professional development.
Our name honors an eclectic little cottage built by Bernard Maybeck on the Principia College campus in April 1931. The Mistake House—originally intended to be called the Sample House—embodies the architect's eccentric pragmatism and was built as a way to experiment with the building techniques that would be used in the construction of the Maybeck buildings that form the architectural heart of Principia's beautiful campus.
Described as a "peculiar confection of constructional ideas" by Principia College alumnus and Cornell University professor emeritus Dr. Robert M. Craig, the Mistake House reflects Maybeck's dedication and adherence to the idea of process as a building craft. It also served as a reference tool, an instructional guide, and an example of the playfully creative processes all craft and creations must embody. Maybeck insisted that "monotony is a sin," and through his creation of this peculiar little house, he encouraged both thoughtful and dedicated study as well as liberated risk-taking. Mistake House magazine is the literary manifestation and gathering place for ideas and processes such as these.
Our professional section, Soap Bubble Set, showcases one visual artist and one writer and is named after an assemblage by the well-known modernist sculptor and filmmaker, Joseph Cornell. Poetically and visually associative, Soap Bubble Set evokes the transient quality of soap bubbles, childhood play and imagination, the ever-changing nature of the artistic and literary world, and, for Cornell, contemplation of the cosmos. To find the universe in a soap bubble and the "world in a grain of sand," as William Blake put it, is to see the possibilities that always surround us.
We invite you to step inside, slip off your shoes, and settle by the fire. Welcome to Mistake House.
About Principia's Mistake House
Set on the bluffs above the historic village of Elsah, Illinois, Principia College overlooks the "muddy Mississippi" River and the delta farmlands of southeastern Missouri. Principia's original campus buildings were designed by famous Arts & Crafts architect Bernard Maybeck (1862-1957), with work beginning on campus buildings in 1923. The Maybeck "houses," i.e., dorms, reflect the charm of an English country village and highlight the natural beauty of Elsah's wooded surroundings. Maybeck believed that "the college buildings should be so spiritual that the students without knowing it get the qualities which…make leaders." Through expertise in his craft, Maybeck succeeded in capturing the essence of process and thoughtful experimentation, both of which are conducive to moral and intellectual growth.
The Mistake House, our journal's namesake, is a petite building that Maybeck constructed in order to sample various architectural techniques and materials he would use in later constructions throughout the campus. The north side of the Mistake House roof faces the campus interior and features poured concrete that simulates thatch. The terra-cotta tiled southern slope faces the highest point on the Principia College property where the Chapel designed by Maybeck overlooks the College green—a large field of lush grass bordered on the west by the limestone bluffs, a place where students enjoy an unhindered view of the sun setting over the Mississippi River. Faced with such a stunning view, one finds inspiration and stillness in an otherwise busy schedule.
The process-oriented, exploratory craftsmanship of Maybeck's architecture reflects Principia founder Mary Kimball Morgan's dedication to "handwrought education" and individualized learning. Morgan's vision established an atmosphere in which students and faculty collaborate as they explore the nature of analytic thought and creative process.
On campus programs such as Creative Writing, Studio Art, Dance, Theater, the Mediation Team, Solar Car Project, Global Perspectives and Sustainability minors, and the Public Affairs and Pan-African Conferences offer students hands-on opportunities to develop techniques, learn innovation, and discover their own sense of meaning and views of the creative process in the context of world issues. Similarly, Principia's abroad programs allow students to broaden their perspectives of the world and immerse themselves in cultures new to them while studying languages and a range of academic subjects. Principia's close-knit community, whether on campus or abroad, teaches the value of collaboration, resulting in memorable experiences and life-long friendships, all of which find their homes in the collage of architectural and natural beauty that constitute the Principia College campus.