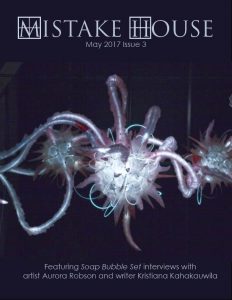 Welcome to Mistake House! This year's issue is a home for diverse, fearless, and honest writing by graduate and undergraduate students from several countries. Franz Kafka once said, "Don't bend; don't water it down; don't try to make it logical; don't edit your own soul according to the fashion. Rather, follow your most intense obsessions mercilessly."
In Issue 3, writers gracefully take on many perspectives. We received many submissions that courageously used their voice for a purpose. As you read, you will find poetry and fiction expressive of diverse tones, styles, and themes, with each offering substance and depth regarding topics relating to climate change, relationships, transformation, and culture. Take a look, for example, at Niamh Crosbie's fiction, "Six of Spades" which appropriates and recasts Irish culture through folk tale, at Sky O'Brien's "65 Inches Wide and 37 Inches High," which lampoons cultural obsession with television, at Emma Robdale's "Woman Gives Birth!" with its reflection on ideologies regarding pregnancy and its allusion to futuristic artificial wombs (not really a science fiction fantasy)—and at the several other stories that raise issues relating to marriage, the philosophies of cognition, aging, and the environment. The poets featured in Issue 3 also employ a strong and wide range of forms and voices, exploring issues ranging from politics to loss, childhood and mothering to health, romance, nature—and even whimsy.
The Soap Bubble Set feature this year is stunning and richly inspiring, presenting visual artist Aurora Robson and writer Kristiana Kahakauwila. Robson is an artist-activist who works with diverse media and is best known for her sculpture created from plastic retrieved from waste littering the landscape. Kahakauwila is a fiction writer—a storyteller, as she might put it—who speaks of Hawai'ian history through multiple and complex character relationships and perspectives, shedding light on a diverse and often problematic history. We are deeply honored to be able to have Robson's and Kahakauwila's work and to share their intellectually, culturally, and creatively stimulating work and ideas with our readers.
We hope you enjoy Issue 3, and find that the many voices and perspectives in it elicit inspiration, continuing hard work, and empathy. Whether it makes you laugh, or cry, we hope it allows you to look at the world with fresh eyes and renewed determination not to "bend" or "water it down." Welcome, once again, to Mistake House.
Patty Gray, Editor-in-Chief