Featured Writer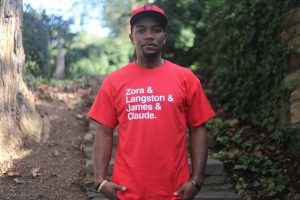 A.D. Carson earned his BA in Education and Creative Writing at Millikin University and his MA in English from the University of Illinois, Springfield. He went on to work as a high school teacher while serving as the Writer-In-Residence for Benedictine University. Currently, he is completing his PhD in Rhetorics, Communication, and Information Design from Clemson University, where he has raised awareness of historic and entrenched racism through his See the Stripes campaign.
Carson has also released several independent albums and mixtapes. Though he has his Hip-Hop ties, Carson works in other creative media, as well. His writing has been published in Collage, The Alchemists' Review, Quiddity International Literary Journal and Public-Radio Program, and The Guardian, among others. His essay, "Oedipus-Not-So-Complex: A Blueprint for Literary Education," is included in the critical reader: Jay-Z: Essays on Hip Hop's Philosopher King. Carson's first novel, COLD (Mayhaven Publishing, 2011), hybridizes poetry, rap lyrics, and prose. He is also the author of The City: [un]poems, thoughts, rhymes & miscellany, a collection of poems, short stories, and essays. He is the recipient of the Grace Patton Conant Award for Literary Creation and is also a 2016 recipient of the Martin Luther King, Jr. Award for Excellence in Service at Clemson University.
Carson uses his performance and written platforms to raise political and social awareness, and he connects music and literature in his dynamic approach to teaching.