Featured Artist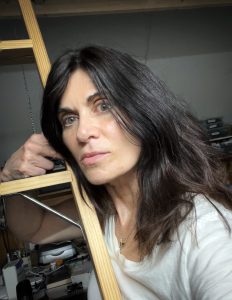 Phoebe Gloeckner is a visual artist and graphic novelist who currently resides in Ann Arbor, Michigan where she is an Associate Professor at The University of Michigan Stamps School of Art & Design.
Gloeckner experiments with forms of multimedia and current projects include audio, motion, and static images along with text. She attended undergraduate school at San Francisco State University, Charles University in Prague, and L'Université D'Aix-Marseille between1980-85. She received her M.A. in Biomedical Communications in 1988 from the University of Texas Southwestern Medical Center at Dallas. From this training, she began working as a medical illustrator. Her extensive knowledge of the medical world is evident in her work that isn't created for medical purposes and can be seen in her attention to detail as well as her inclination to focus on the human body.
The Diary of a Teenage Girl (2002) is Gloeckner's best-known book, praised as "one of the most brutally honest, shocking, tender, beautiful portrayals of growing up female in America." In 2015 The Diary of a Teenage Girl was adapted into a movie. In addition to The Diary of a Teenage Girl, she has published the comic book A Child's Life and has illustrated seven other books.
In 2008, Gloeckner was awarded a Guggenheim Fellowship to continue her work on a project centered on the family of a murdered teenager living in Ciudad Juárez, several hundred feet from the US-Mexico border. Gloeckner's work explores the intense violence in the city, the tragedy the family endured, and the end result will be an illustrated novel.