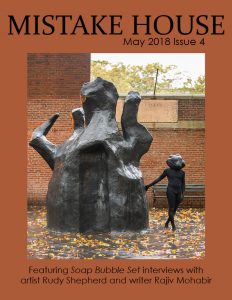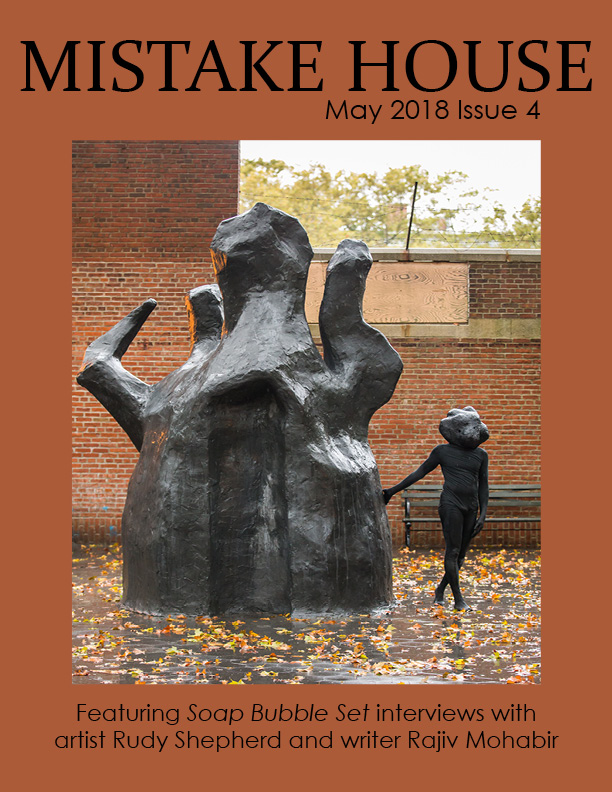 "Home is where we return to," says Czech writer Václav Cílek, "and we leave it only so that we may return." Cílek is talking about the natural landscape of our home, the earth, the "flux in which our spiritual and natural sides mingle," but his words transcend context. If you are returning to Mistake House Magazine, welcome home. If this is your first time here, welcome–we hope you'll return, too.
Mistake House is an annual online literary magazine dedicated to publishing the diverse voices and eclectic literary styles of students in the United States and around the world. In the time that has passed since we published Issue 3, the historic opioid epidemic in the United States has worsened; heroin and fentanyl overdoses now account for tens of thousands of deaths per year. In Issue 4, check out Kate Lasell's "Overburden" for an engaging and inventive look at a protagonist's relationship with opioids and God. In "Eustace," Wesley Sexton approaches the subject–and the often "absurd" qualities of life and death–in a similarly inventive way.
In Michelle Olmsted's "Speak Fire," you'll hear from a protagonist grappling with displacement, cultural insensitivity, and sexual abuse, three very relevant issues in today's world. For sensitive meditations on the complex nature of human relationships, spend some time with Jeffrey Boldt's "The 2013 Holiday Letter," DāShaun Washington's formally creative "Matron Misery," and Kristen Darby's "The People's Temple." See Bryan Nguyen's "Totino's Triple Stuffed Pepperoni Pizza Rolls" and Josh Anthony's "Cat Hour" for imaginative responses to consumer culture and anxiety.
We are honored to feature poet Rajiv Mohabir and artist Rudy Shepherd in this year's Soap Bubble Set, our professional section named after a series of assemblages by the well-known modernist sculptor and filmmaker Joseph Cornell. Together, Mohabir and Shepherd bring diverse backgrounds to complex issues in contemporary culture including immigration, displacement, the rights and experience of the LGBTQIA+ community, racism, and the portrayal and perception of good and evil in mainstream media. The ideas in their interviews, their thoughts about creative process, and their original work will enlighten and inspire the creative reader and writer.
Once again, welcome home.
Sky O'Brien, Editor-in-Chief