Featured Artist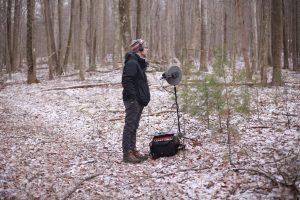 Sound artist and electronic musician Stephen Vitiello creates both an aural and a visual experience for viewers/listenters. Vitiello creates sound with analog and digital electronics, traditional and homemade instruments, and incorporates a variety of sounds from field recordings from urban and rural environments. As an installation artist and composer—as well as a prolific collaborator—his works include such multifaceted forms as gallery exhibitions, sound tracks, art installations, performance, and video art. Born in 1964 in New York City, he has participated in numerous group and solo exhibitions and performed his music live both internationally and domestically.
His most recent public events include: the group exhibition By Any Means: Contemporary Drawings from the Morgan at the The Morgan Library and Museum, NYC (on view through May 12, 2019); a recently released LP with Taylor Deupree, Fridman Variations on the 12k label; a collaborative exhibition with Kasey Fowler-Finn, PhD at Sediment Arts in Richmond, Virginia, Singing amongst the weeds; and a group exhibition at the Museum of Contemporary Art in Lyon, France, Sounding New, which includes "seventeen artists who have experimented and produced new forms of art by decompartmentalizing its disciplines: music, visual and digital arts, theatre, dance and poetry, breaking away from the artistic and cultural conventions of their time" (through July 7, 2019).
Vitiello's solo exhibitions since the turn of the 21st century have taken place in world-renowned venues include, among others: All Those Vanished Engines, MASS MoCA, North Adams, MA (2011-(ongoing); A Bell For Every Minute, The High Line, NYC (2010-2011); More Songs About Buildings and Bells, Museum 52, New York (2011); and Stephen Vitiello, The Project, New York (2006). Among the group exhibitions in which he has been included are Soundings: A Contemporary Score, Museum of Modern Art, NY (2013); Sound Objects: Leah Beeferman and Stephen Vitiello, Fridman Gallery, New York (2014); September 11, PS 1/MoMA, LIC, NY (2011-2012); The 15th Biennale of Sydney, Australia (2006); Yanomami: Spirit of the Forest at the Cartier Foundation, Paris; and, the 2002 Biennial Exhibition, Whitney Museum of American Art, New York (2002).
Among his other accolades, Vitiello has received major awards from Creative Capital (2006) and a Guggenheim Fellowship (2011-12). Vitiello is currently a professor of Kinetic Imaging at Virginia Commonwealth University, and he lives and works in Richmond, Virginia.
Stephen Vitiello's web site, including his full bio can be found here: http://www.stephenvitiello.com/.
Photo by Matt Flowers